The Beauty of Automated Review Management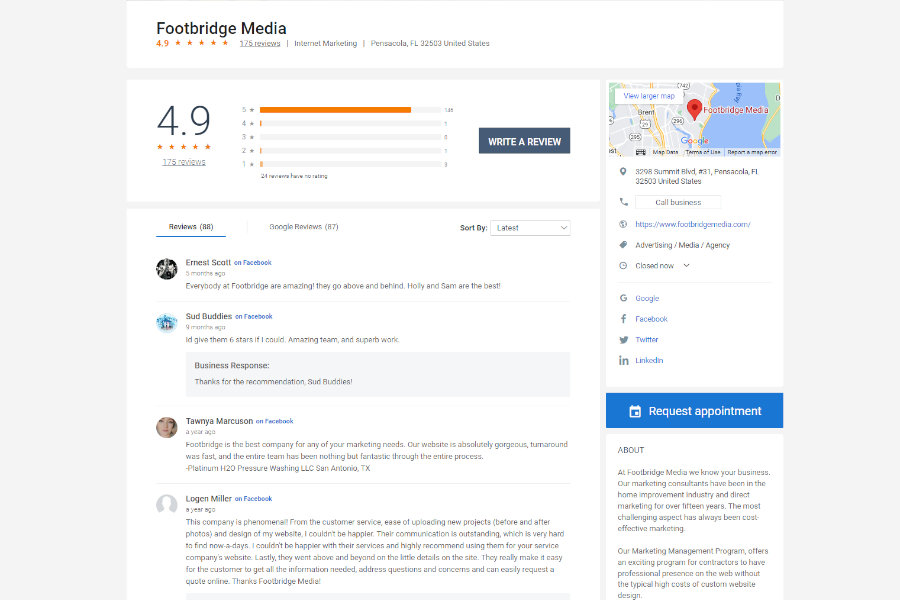 Chris Lonergan
May 17, 2018
Customers are getting smarter about local business decisions. Everything a business says or does is out there on the web. Instead of a private word-of-mouth referral, your online reviews are a public forum for customers to voice their satisfaction (or displeasure) in having worked with you and your business. But keeping track of all of that can be a tedious job.
When properly implemented, an automated review management system can make quick work of monitoring and encouraging healthy online review activity. The key is finding the right system for your business. Let's talk about what to look forward and key components you really need as a contractor or home service provider.
A Well Maintained Software
You want to make sure the system that you are using is well maintained by its creators. The online review world is a fast moving one – and each platform has very specific do's and don'ts that can and often do change on a regular basis. It's important that you select a software that keeps an ear to the ground and makes updates when necessary to improve and keep their product compliant.
Automated Review "Listening" Ability
One major component is the ability to listen for updated reviews. More often than not, for a contractor or home services provider, your feedback will most commonly be on Google, Facebook, or another one of the big players. Your review management system should be able to, on a regular basis, check for updates at your target platforms and notify you as immediately as possible of a review – good or bad.
Review notification is important because it gives you the ability to interact with your reviewer. If this was a positive review, a simple "thanks for your business" is often enough. If this was a negative review, knowing about it as quickly as possible gives you the most opportunity to remedy a situation and possibly convert a negative experience into a positive one – or at the very least do some damage control and try to get the negative feedback removed amicably.
Encouraging Reviews the Right Way
Just about every major review platform does not want you to incentivize your customers into giving you a review. If you offer your customer a gift or discount for a review, that may technically be breaking the terms of multiple review companies. Yelp is known as being incredibly strict about this – to the point where they really don't even want you to really even ask Yelpers for reviews.
Instead of encouraging reviews with incentive, a proper review management system should communicate effectively with your customers. A key component in this review encouragement process should be the ability to customize your messaging and tactics. Do you want to build more reviews on your website first and then solicit for reviews from other platforms after that? Do you only want to increase your Google review count? You should be able to target your customers in the way that you want – so customization is key here.
On-Site Review Capabilities
Contractors and home service providers have a unique business set-up. Since the majority of work is done on a job site instead of at your office or home base, you should have a review management system that works with that in mind.
Sometimes called "Kiosk" or "Point Of Sale" reviews – your review management system should offer the ability to ask a customer directly for a review. The Footbridge Media Review Management System, for example, allows you to hand your customer an internet equipped tablet and ask for a review right on the spot – directly through the software.
This versatility means you can strike when the iron is hot – so to speak – and ask for a review right then and there, when there may be a better chance for your customer to be willing provide feedback.
A Software That is Always Growing
While there may be bells and whistles that you may not use in your industry – but a software that is growing and increasing their offerings is a sign of a product that is continually trying to innovate. As an example, our review management system also monitors Google "Q&A" content for new posts. While this isn't exactly a review – it is still another service that is growing in popularity and that is closely linked with online review activity.
Finding a Balance of Features and Cost
There are lots of options on the market – it's important to find the one with the key components and features that you need at a cost that is fair to you. Remember that buying into the system is just one part of the software – it still needs your time and energy to get the software full of information and fully implemented with your business practices.

About Chris Lonergan
Chris Lonergan is the President of Footbridge Media. With a background in web design, print design, and online marketing, Chris is focused on providing quality marketing and business solutions in the construction and service industries - helping small business owners to more efficiently manage their company and grow their operations.