5 Tune Up Postcard Musts During This Air Conditioning Season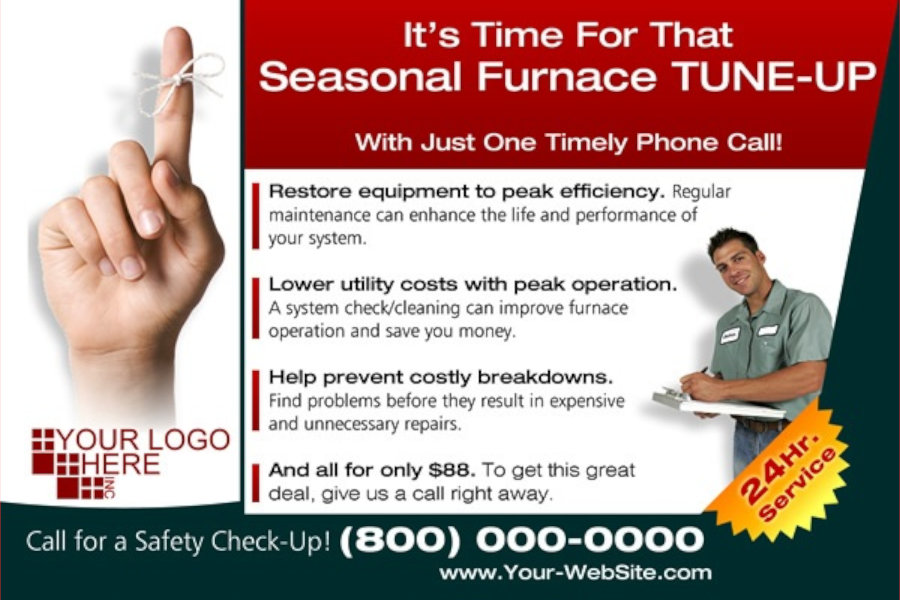 Aaron O'Hanlon
March 12, 2012
Every good heating and air conditioning company should begin setting up their annual tune up cards and creating their list. Seasonal tune up cards are cost effective method of marketing that can be very profitable. By completing your due diligence in these areas, your tune up card printing and marketing efforts will have the potential to take your business to new levels.
If you do not plan to order your postcards through us, then please make sure to take these tips into consideration, when you are designing your tune up card.
A Bold Headline – The headline should explain in what you are offering. Many companies make the mistake of using their logo or company name as the largest aspect of a postcard, but the headline should be what you are offering to the homeowner. For air conditioning tune up cards, here are some beneficial headlines to use:

"Tune Up Time!"
"Time For A Home System Tune Up?"
"Don't Sweat Your Air Conditioner This Summer!"

A Photo/Graphic That Supports Headline
Benefits – Use bullet points to explain the benefits of having a seasonal tune up, and the costs that can occur for negligence.
The Offer – Display price, discount or special for your tune up.
Call To Action – How do you want people to contact you? Phone number and your website should be prominent. Always direct people to what they need to do next.
Sending out seasonal tune up cards or reminders to your client base is an excellent way to keep that "top of mind" awareness with your clients as well as generate some additional revenue. If you would like to see some samples of our HVAC postcards and other print products, visit www.footbridgemarketing.com.

About Aaron O'Hanlon
Aaron O'Hanlon is the CEO and Co-Founder of Footbridge Media, a digital marketing agency, specializing in the contracting industry. It is his mission to create awareness of marketing online to the home improvement industry and to educate, inform, and assist contractors in taking over their own online presence.