It's Time for Fall HVAC Tune-Up Cards
Chris Lonergan
September 5, 2014
Now is the perfect time to get your fall marketing plan in place – It's a great time to remind your previous customers and potential new clients about the importance of seasonal heating system maintenance. It may feel early, but remember that preparation is the key to success. Work out the fine details of your marketing plan today and order the appropriate Fall HVAC Tune-Up Cards and direct mail pieces now to be ready to pull the trigger over the coming weeks.
But, It Doesn't Feel Like Winter Yet!
Don't forget that part of your job as contractor is to be an educator. Remind your customers that checking on furnaces in September will mean that they will be ready to heat their home more efficiently all winter long and save on their utility bills...and that a quick tune-up now is cheaper than emergency repair services in December! Offering "Early Bird" deals or enrollment into a discounted bi-annual seasonal maintenance packages can also incentivize customers to get their heating comfort equipment checked early.
How Can I Reach All My Customers?
Whether you want communicate with old clients or approach new customers with tune-up promotions, you have a few options. We always recommend keeping in touch with your client list on a regular basis via social media and email marketing, and this month would be a great time to offer special pricing for return customers. Branching out and earning new customers can be accomplished via direct mail. EDDM, or Every Door Direct Mailer, is a cost effective way to get into every mailbox of specific community or zip code. Remember that it often takes many contacts to create a sale – So just one tweet won't cut it. The more often you can get in front of potential customers, even if it is just via company trucks and yard signs, the more likely a person is to use your services.
Check Out Our Latest Fall HVAC Tune-Up Cards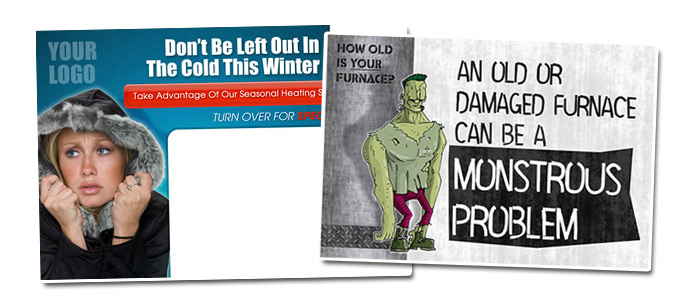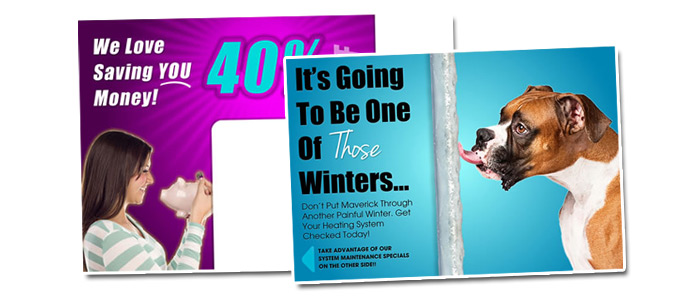 About Chris Lonergan
Chris Lonergan is the President of Footbridge Media. With a background in web design, print design, and online marketing, Chris is focused on providing quality marketing and business solutions in the construction and service industries - helping small business owners to more efficiently manage their company and grow their operations.