Spring Marketing for Contractors: Ideas to Go Green and Other Springtime Opportunities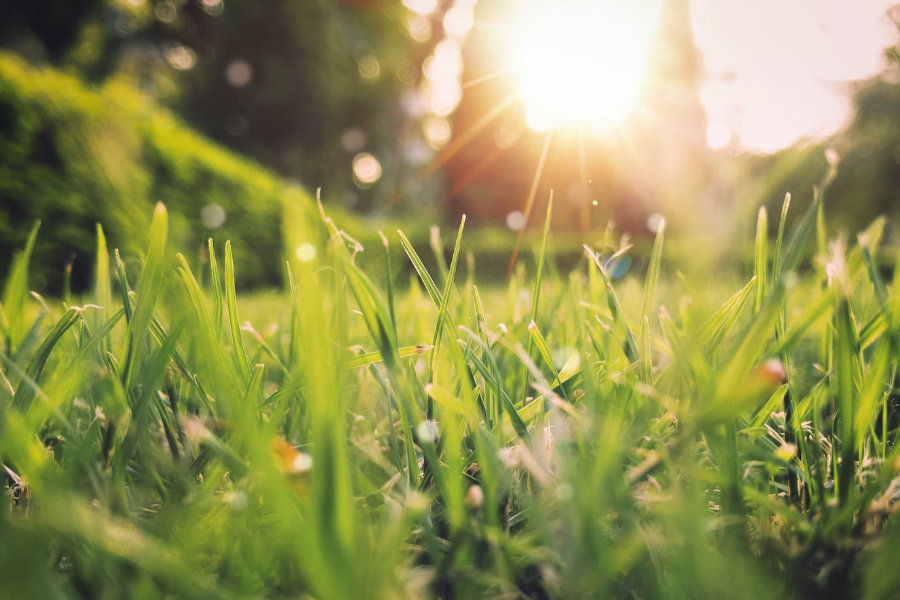 Chris Lonergan
March 9, 2021
Whether your neck of the woods is starting to warm up or if there's still snow on the ground, it's time to get ready for the warm weather season. So even if it still doesn't feel like Spring, it's important to prepare your Springtime marketing materials and business plan to be ready to hit the ground running. Get your marketing in gear and "Go Green" to capture the moment!
Going Green: Spring Marketing for the Month of March
Just about every industry has "eco-friendly" product and methods that can be featured in March. What can your business promote?
Cleaning Services - A Focus on Green Cleaning Products (Naturally Safe for Pets and Children!)
Decking Contractors - Featuring Eco-friendly Composite Deck Materials
Electricians - Review Your Energy Usage
HVAC Contractors - Increase Your Energy Efficiency and Reduce Your Carbon Footprint
Landscaping and Lawn Care - Organic Lawn Care
Painting - Zero or Low-VOC Painting Products
Pest Control - Natural / Organic Pest Control Products
Plumbing - Reduce Water Waste by Fixing Leaks / Green or Natural Alternatives to Chemical Drain Cleaning
Pressure Washers - Low Power and Natural Roof Cleaning Products
Roofing Contractors - Recycled Shingles / Natural Roofing Materials / Long Lasting Metal Roof Materials
Siding Contractors - Eco-Friendly Materials and Sustainably Harvested Siding Materials
Efficiency and natural products are becoming more and more popular, so even if it is new to you – consider trying out some eco-friendly services and materials. You may find that you end up exposing your company to a different potential customer base.
Spring Marketing for HVACs: Air Conditioning Tune-Up Card Time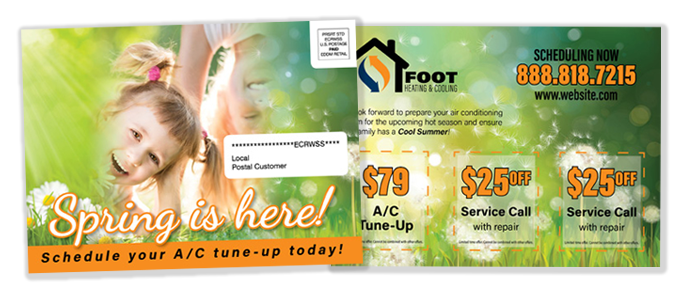 Now is the time to strike with your A/C Tune-Up Cards. Most folks are likely still using their furnaces, boilers, and heating systems – so part of your job will be educating past and potential clients on the benefits of preventative maintenance while their cooling systems are offline. To make the Springtime marketing proposition more enticing (and to fill your schedule faster) offer an incentive for an early-season air conditioning tune-up service. You could further sweeten the deal by offering discounts to join your Preventative Maintenance Packages – this commits customers to your business while earning you recurring work. Consider targeting some of that particular campaign to your current customer base – they've already worked with you, so they know that you can be trusted to do top-quality work. Further the relationship with the promise of longer-lasting comfort equipment and reduced energy costs all year long.
If you've been trying to break into some new neighborhoods, consider EDDM ("Every Door Direct Mail") Tune-Up Cards this year. You can target your print marketing efforts into specific geographical areas.
Samples & Pricing: Air Conditioning EDDM Gallery
The Grass is Always Greener: Landscapers & Sprinklers Promotions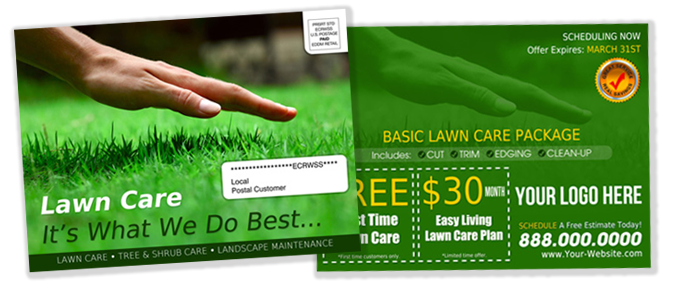 As the world comes back to life, someone will need to be there to take good care of all of the greenery. Reach out to your past clients and potential leads now to lock in your services for a business year.
When you finish an early-season job, have your staff walk the neighborhood and leave your company's door hangers. If you can generate a few other regular jobs in a single area, you don't have to worry about wasting as much time traveling between jobs – which means you can more efficiently make more money.
Doorhanger canvassing is fairly low cost – from a print and distribution standpoint. If you have a little bit more in your marketing budget and have some specific zip codes you'd like to target – EDDM is a great option for landscapers and sprinkler installers as well.
Samples & Pricing: Footbridge Marketing Print Designs for Landscapers

About Chris Lonergan
Chris Lonergan is the President of Footbridge Media. With a background in web design, print design, and online marketing, Chris is focused on providing quality marketing and business solutions in the construction and service industries - helping small business owners to more efficiently manage their company and grow their operations.