The Influence of Online Reviews on Contractor and Home Service Business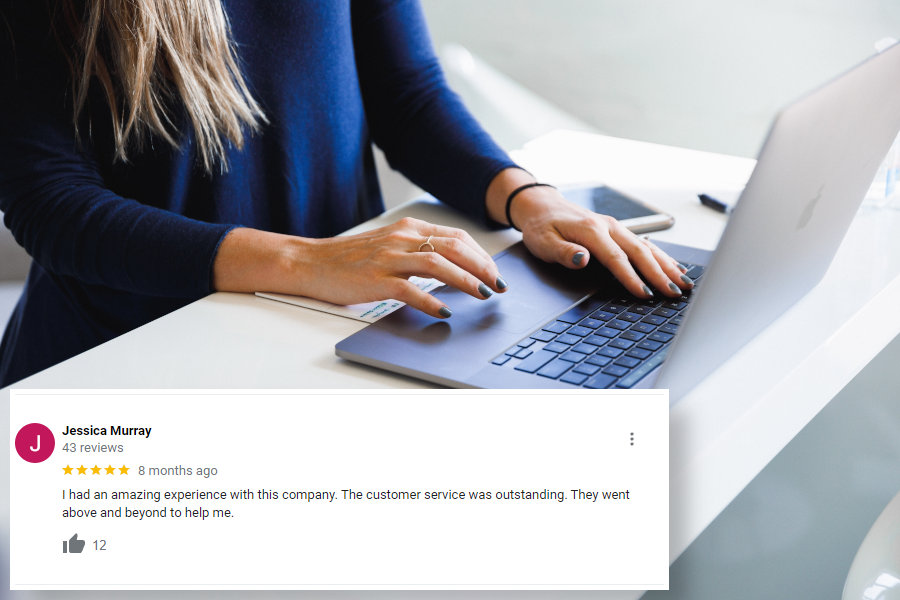 Chris Lonergan
September 29, 2023
Love them or hate them, online reviews are unavoidable. If you want to earn customers online, you need to be playing the online reviews game - it is as simple as that.
Now more than ever, your prospective clients are using online reviews from complete strangers as an integral part of their decision-making processes when selecting what company to work with - and it is happening with virtually every single contractor and home service business type.
Whether someone is doing a general search online for a service you offer or if someone was explicitly referred to you and they are looking you up online - chances are one of the first things someone will see during their search are online reviews (or the lack thereof!) about your business.
Snap judgments about you and how your business operates are made from your review count and rating averages - so it is absolutely vital that you are actively improving your online review presence.
So, How Many Reviews Do I Need?
At the end of the day, the best way to succeed is to have more reviews than your competitors. Especially when it comes to local search engine optimization and performing well in the Google Maps / Google Business Profile world, the overwhelming majority of the time - the company at the top of the list is the one with the most reviews.
So, if you're trailing behind some competitors, push forward and ask for those reviews on every positive job to ramp up your review count.
If you're already at the lead of the pack, now is not the time to let off the gas. You should still have an active plan to garner positive reviews so that you don't get tortoise-and-the-hared and end up losing out on your lead.
The Power of the Positive Review
Word-of-mouth has been the gold standard that has established and supported contractors and small businesses. Think of your positive online reviews as the new word-of-mouth.
Positive reviews are a virtual endorsement of your business. The more positive reviews that you gather, the more virtual votes of confidence your prospective customers will see when they try to learn about your business.
Tackling Negative Feedback Head-On
Bad reviews are going to happen. In fact, they are more likely to happen naturally and organically than a positive review. How you react and what you do when you get a negative review is much more critical.
When you do get a bad review, the first thing you should do is take a breath. Negative feedback can get the best of us, especially when you likely disagree with their interpretation.
While no one enjoys getting a one-star review, there are still ways to improve yourself and your business. Evaluate those negative reviews to see if there are any opportunities for improvement moving forward.
Could that customer's bad time have been cut off before it got this far if you had said something different or taken a different approach?
Is one specific person on your staff, more often than not, the common thread amongst the complaints?
Could changes to your work and communication processes help avoid these issues in the future?
When you feel more level-headed, use this criticism as an opportunity to grow your business and avoid getting a bad review for the same exact thing again in the future.
Crafting a Proactive Review Management Plan
Good reviews don't happen by accident. Any business that performs well in its online reviews has an active review management plan.
Footbridge Media clients have access to Birdeye Review Management tools that help simplify and automate your review-gathering processes. All you have to do is add your client's contact information, and the review management system will reach out via SMS and/or email on a specified schedule.
When you use an automated review management system, you can complete one simple step and trigger a complete campaign of activity to help build your online reputation. That helps to grow your business while eliminating hours of manual work on your end. Otherwise, you must add manual review request processes to your workflow. That could include "Leave Us A Review" marketing efforts on specifically created business cards and manually asking for the review at the completion of every job.
Best Practices for Encouraging Positive Feedback
If you're proud of your work and know your business helps your community, then you should have no problem wanting to spread that good news and gaining the opportunity to help even more people.
It may feel unnatural at first - but the step of actively asking your client for a positive review can be powerful. Remember to make it as easy as possible for your customers to leave you a review to reduce those hurdles and the amount of steps or time necessary to complete a review. The lower the burden, the more likely you'll earn those positive reviews.
Monitoring and Responding in Real Time
On many platforms, like Google Business Profiles, business owners can reply to reviews. You should absolutely reply to all of your reviews. Replying with a simple thank you can help further demonstrate that your business is active in caring for your customers. Crafting a response that perhaps highlights a particular part of your interactions and service with the client can be a nice touch.
The goal of a reply to negative feedback should be to de-escalate and bring the conversation offline. Your reply should include providing an opportunity to engage in a proper phone call or email communication to address the customer's specific concerns and convert them to a happy customer again.
Positive or negative, it is important to monitor your reviews and respond in a timely manner. When possible, reply to reviews within 24 hours.
Leveraging Social Proof to Boost Your Brand
Once you start to build up your online reviews - you should maximize their use! Footbridge Media clients that use our Birdeye Review Management system already do this! We gather reviews from multiple 3rd party locations like Facebook and Google so that they can be displayed on your website.
Without a proper review management tool, this is more difficult to do in an automated way. You could, at the very least, share some of your best reviews in other marketing efforts - like your email newsletters or social media posts.
Beyond the Buzz: Long-Lasting Contractor Success With Online Reviews
It has been said that "All we have is our reputation" - and for businesses, your reputation will make or break you. And it doesn't look like online reviews will be going away any time soon. In a time and age where businesses and their owners can be Googled in a heartbeat - your business should be concerned with what others are saying about them.
The first step is understanding that success in maintaining online reviews requires an active plan, not a passive one. Find the ways that you can incorporate review gathering into your everyday business - preferably in ways that are a little more automated so that you can enjoy the benefits of improving your online reputation without adding hours to your workday.
Footbridge Media works hard to do that for each and every client. We provide the tools and support to our contractors and help them to gain more positive reviews to benefit your business in the long haul. Contact us today to see if our contractor marketing program is right for you.

About Chris Lonergan
Chris Lonergan has over a decade of contractor marketing experience with Footbridge Media. With a background in web design, print design, content creation, and online marketing, Chris is focused on providing quality marketing and business solutions in the construction and service industries - helping small business owners to more efficiently manage their company and grow their operations.