Call to Action and Why Your Website Isn't Converting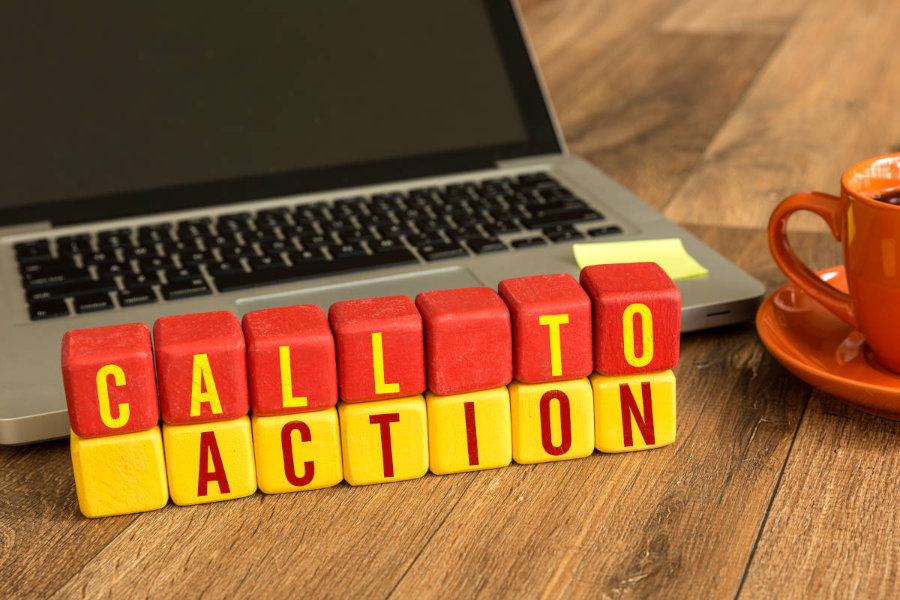 Chris Lonergan
October 20, 2018
Marketing companies tend to put a lot of focus on the the path that prospective customers take to get to your website. For some agencies, that is the main (and only) goal – Build campaigns that deliver customers to your web presence. That, however, is only half the battle. A negative web visitor experience can sour that initial victory.
So, if you are spending time and money to getting customers to knock on your door – why wouldn't you be concerned with how to best get them to step over the threshold can convert from looker to buyer. While there are many components that can make or break a user's experience on your website, today we're focusing on one element – your Call To Action.
What is a Call to Action?
It's pretty much just as it sounds. If you were pitching your business services in face-to-face negotiations – we'd call it "the ask" instead. The Call to Action is the all-around package that encompasses how you ask a prospect to take the next step to becoming a paying customer.
Where Do I Have Call To Action?
The majority of websites should have call to action buttons and opportunities...
Near the top of their page. This is called "above the fold" in some marketing jargon. It refers back to newspaper page placement, where you wanted your article or advertisement to appear above the physical fold in the paper. This meant that your content would be seen immediately upon picking up the paper, without having to open the paper further or turn the page. Nowadays, it means "before the scroll" – a prominent place on your website within the view of a web visitor immediately upon loading your website, without having the scroll down.
Towards the bottom of the page. Once a web visitor has consumed the piece of content you intended for them to land on, it is important to again ask for the sale.
Placed in throughout content as necessary without being too repetitive. Additional CTA ("call to action" for short) through the body of your content is good, but the amount of hard sales required depends on your product. Old school "sales sheets" featured testimonials, features and benefits, and hard sell call to action interspersed amongst copy. Those types of page builds can work for some industries and PPC landing pages – but more subtle or less frequent call to action may make more sense for your business.
Examples of Call to Action Language
Depending on your industry and the needs of your target audience, users will be looking for specific phrases that assure them they've found the right place.
For emergency service repair provider's call to action, where your target customer has an immediate need that must be fixed, they will be looking for language like:
24/7 Service
On Call, 24/7
24 Hour Emergency Service
Ready to Serve You Day and Night
Contact Us Now
For other service repair provider's call to actions, your customers' immediate needs may be less urgent, so they are looking for other language such as:
Free Estimates
Get Your Estimate Now
Schedule Service
Schedule Appointment
For visual industry call to actions, where your average customer has more time to select a company (think painters, remodelers, GC's), your call to action can use words like:
Schedule Consultation
Request a Consultation
Schedule Appointment
Contact Us
What Should My Call to Action Look Like?
Generally speaking, your call to action button should be able to stand on its own. That means having enough spacing and substance to clearly be different from the rest of your content. Contrasting color is a good thing (but don't overdo too many contrasting colors and call to actions)
Call to action text is also important. Your "above the fold" CTA can be a button and your bottom of content call to action can sometimes be text instead. Instead of worrying as much as color and contrast, a text based call to action is more about getting to the next phase of the sale with a logic or emotional-driven pitch.
What Do I Have to Do to Have the Right Call to Action on My Website?
If you're a Footbridge Media client, you're in luck! From our initial build through our ongoing marketing services, we develop your website and additional pages with our proposed best practices for call to action, based on your industry and your company.
If you're not a Footbridge Media client, it may be time for a review of your current website. Pretend like you need your own company's services and visit your home page. Is there a clear path for what you would want to do next? Is there are good way to easily get to the next step of doing business? If not, it may be time for a discussion about your marketing plan.
Without the right call to action, you are not maximizing all of the effort you've dedicated to getting new visitors to your website. Avoid that waste by ensuring that your online marketing has the appropriate call to action necessary to convince visitors to engage your business and become one step closer to being a paying customer.

About Chris Lonergan
Chris Lonergan is the President of Footbridge Media. With a background in web design, print design, and online marketing, Chris is focused on providing quality marketing and business solutions in the construction and service industries - helping small business owners to more efficiently manage their company and grow their operations.