Creating a Customer Retention Program for Contractors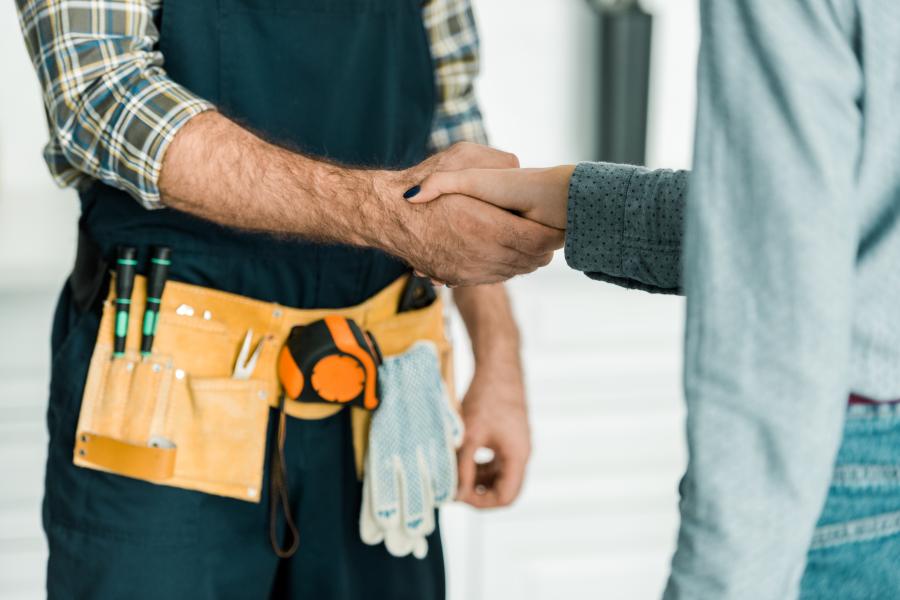 Chris Lonergan
July 27, 2018
If you're like most contractors or home service providers, your #1 in goal for your business (aside from customer satisfaction!) is to acquire more customers. Your business requires that you are constantly intaking more and more customers – so that you can capture the lead and make that big sale. Then you repeat the same thing the following day.
We've talked about the cost of acquiring customers, but sometimes the question needs to go a step further. What is the value of that acquired customer? Could you earn more business from that customer now – and could you earn additional business from that customer in the future?
That's where a customer retention program comes into the play. Let's talk tactics for building a successful customer retention program for the construction and home services industries.
Start the Customer Relationship Strong
From the first phone greeting or online message, you are setting the stage for how your potential customer will remember who you are and what you are all about.
All of your customer communication should be both prompt and professional.
Answer the phone like a business, not like its your personal number
Email your customers from a branded business email account that uses your domain name, not a personal account at some other email provider.
Call back or email back clients as soon as possible.
Make sure your emails have a "signature" from your business, with your contact information included
Whenever possible, obtain multiple forms of contact so that you can can confirm things like appointment times, invoices, etcs and communicate them over the phone and via email.
Consider developing a "Welcome" message for your customers – an email that you can send to them that introduces the new client to your business and your processes to help set their expectations for your future interactions.
Over Deliver on the Job and Thank Them for the Opportunity
Once you start off on a good foot, follow through and deliver the best job and final product possible – like you normally do.
When the job is done, schedule out some time for your business to follow up with a phone call the next day to ensure their satisfaction.
Assuming all is well, follow up again with a thank you card in the mail the week after that.
Create an Ongoing Service Program
If you are in an industry where recurring services are possible (just about any service based industry where you could complete safety inspections or routine preventative maintenance), consider implementing an ongoing service program. Whether your call is a "Customer Loyalty Program" or "VIP Program" or what have you, you should charge a recurring fee for regularly scheduled services at a discounted fee compared to one-time purchases of the same service.
Since your customer has already been satisfied by your previous experience and has seen your quality work first hand – you have an "in".
You can seal the deal before leaving on the first job or send some follow up communication a few weeks after the initial service is completed to check in and follow through with your pitch.
Create a Customer Referral Program
Every business should have a customer referral program. It is a very low cost way to grow your business on the back of your quality work and strong service skills.
Offer referral rewards that your customer would actually want or use
Ask For The Referral directly
Using Direct Mail to Keep Your Name Fresh
Stay in touch with your customers whenever appropriate. Direct mail costs can come a long way, which makes print mailers a great tool for building a customer retention program. You can send cards thanking them for their business from last year, holiday cards, send service reminder postcards – the key is to stay in front of those customers to keep your business fresh in their minds.
Email Marketing for Recurring Top-of-Mind Awareness
Obtaining your customer's email address and getting the appropriate permission to market to them should be a priority in your onboarding process. This allows you an easy way to get a message to your past customers on a regular basis without being overly sales-y.
If you have a small list, you could get away with doing it yourself – but once your list starts to grow it would be best to consider a contractor email marketing service to make sure you can send effectively and efficiently to all of your user base without the possibility of making your main business email address look like spam by sending email at too high a rate.
Inviting Them to Your Social Media Networks
Your social media networks should be a place where you can both demonstrate your industry expertise and show off a little bit about who you are and what you do. If you actively maintain your social media accounts, the majority of your marketing efforts and branding efforts should include links to those accounts.
Whether you're converting a customer into an influencer who will be your business advocate or earning repeat business – having a customer retention plan helps you to maximize the value of your acquired leads – meaning you can earn more money without having to find another customer.

About Chris Lonergan
Chris Lonergan is the President of Footbridge Media. With a background in web design, print design, and online marketing, Chris is focused on providing quality marketing and business solutions in the construction and service industries - helping small business owners to more efficiently manage their company and grow their operations.