Are You Using Referral Cards?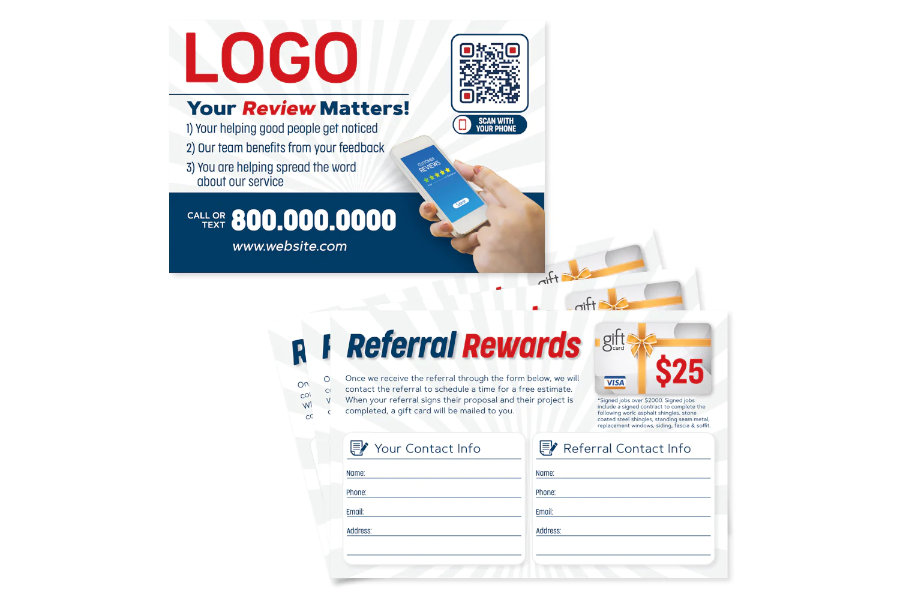 Aaron O'Hanlon
July 22, 2013
Every home improvement contractor knows that referrals are simply the best way to expose your business to even more customers. Referrals that come from loyal customers are highly recommended, as it is usually easier to make homeowners trust your work and services when a friend recommends it to them.
It is stated that up to 40% of contractors believe that referrals have helped them to reap the most profits compared to other conventional marketing techniques, such as direct mail and advertising and even online marketing. However, you will need to adopt a specific technique in order to get as much referrals as possible. One method that you can use, besides a client newsletter, is by using referral cards. Understanding how using referral cards work in your business can effectively increase profits.
Different of Referral Card Tactics and Designs
The type of referral technique you should use depends largely on your customers. For any contractor, the best resource is the customer who has already done business with them. This customer will be the one who provides return business, and refers new businesses.
Using a referral card is just one of these solutions. A referral card is simply a card that entails various discounts and promotions when the customer adds a new customer's name to it.
As such, along with the referral cards, you can conduct a referral contest if you want to.
Incentive-Based Referral Card Programs
What you can do is to distribute a supply of cards to your loyal customers. These cards can also be given out to their family and friends. You can choose to use your business card with a rubber stamp that is designed to stamp this statement at the back of the card:
"Send a friend and you can get $100 off your next home improvement project."
You can also include a grand prize for those customers who send in the most referrals. You can also use the lucky draw method whereby a card is drawn at the end of the promotion. The prize would then go to both the new customer and the referral. Not only are you generating referrals but you are creating customer loyalty and making them advocates for your company.
If you worry that your "contest" would not receive any kind of support, then you can choose to publicize this contest, through social media and press releases. You can put a big sign or banner outside your job site or storefront where people will get a good view of it.
Incorporating Referral Requests Into Other Cards
You can also use another technique, via thank you cards, anniversary cards and birthday cards as referral cards. These kinds of cards are very useful as it is just like killing two birds with a stone. You can keep you customers happy by sending them a birthday card on their birthdays, and also get referrals at the same time! You can do this through direct mail or simply via email or social media.
For example, you can send out referral birthday cards via email and social media wishing them a happy birthday and stating the promotion that they received as a birthday gift from you. But the main purpose of the card is to get referrals so what you can do at the back of the card is to include something like, "Refer a friend and get $100!"
Going Digital With Your Referral Program
Along with your physical referral card, you can set up a page on your website that promotes your referral programs. By offering a variety of methods and reducing the barriers for customers of all types, you can hopefully earn yourself a few extra referrals. Having an dedicated landing page for your referral program also makes for easier online promotion of your referral contest.
Referral cards are just one of the few techniques that is used in referral marketing. It is however a very sleek technique that home improvement contractors all over the world use to get as much customers as possible without the need to spend on costly advertisements.
If you are looking for assistance with developing your own referral cards please visit www.footbridgemarketing.com

About Aaron O'Hanlon
Aaron O'Hanlon is the CEO and Co-Founder of Footbridge Media, a digital marketing agency, specializing in the contracting industry. It is his mission to create awareness of marketing online to the home improvement industry and to educate, inform, and assist contractors in taking over their own online presence.