Are You Scaring Your Clients Away?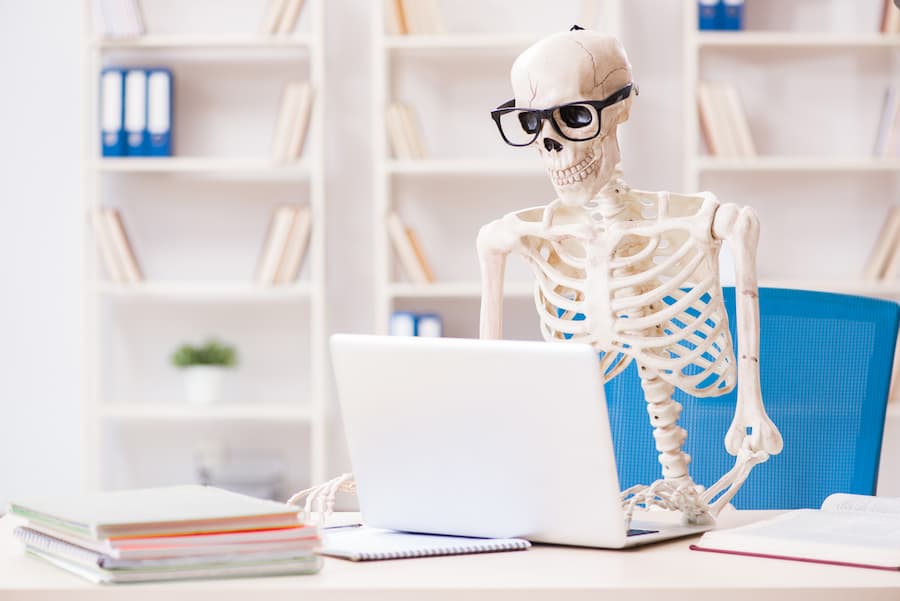 Chris Lonergan
October 24, 2023
It's spooky season - everyone is watching their favorite horror movies, stockpiling their go-to fun-sized candies, and prepping their Halloween costumes.
But if your website is scaring away your prospective customers, then you've got "Double double toil and trouble" along with your lead conversion problems.
So what's potentially frightening about your website? Let's take a look at these monsters that may be lurking in the closet or under the bed.
Spooky Site Aesthetics
Navigational Nightmares
Images That Make You Go Ick
Load Times from the Crypt
Reviews That Haunt You
Ghostly Content Gaps
Mobile-Unfriendly Monsters
SEO: The Invisible Man of Marketing
Spooky Site Aesthetics
Visually appealing websites are very important in turning website visitors into leads. Websites that show their age may suggest that this contractor isn't up-to-date with their business practices in general.
Unprofessional designs and having a DIY look about your website aren't ideal. If you want your business to be considered professional, you have to look professional.
While click-and-drag web builders like Wix, GoDaddy, Squarespace, and Weebly are available - you're an expert in your industry, not in web design. Making something that looks good in your eyes is not the same thing as making something that looks good to the majority of your prospective customers.
Chances are that using professional contractor web design services is the best way to get that job done.
If your website's design doesn't portray your business at its best, your visitors will leave and find a provider that they think better meets their expectations.
Navigational Nightmares
For most contractors and home service providers, there are specific routes that customers will want to take through your website. A website visitor will want to navigate between your home page, service pages, gallery pages, and hopefully your contact form.
The harder it is for your web visitors to find their desired path - the less likely they are to make it to the contact page.
Non-traditional menu designs are usually visually interesting but very confusing. At the end of the day, regular desktop menus and mobile "hamburger" style menu structures are the tried-and-true web navigation options that will make life easier for web users of any ability level.
Confused website visitors know where to find the "Back" button - so they'll simply escape the situation instead of investing time to figure out how your unique situation works.
Image Quality That Makes Your Go Ick
When we talk about image quality, we mean two specific different things…
Images That Best Portray Your Business
Especially for businesses where your eye for design or the visual appeal of your service is the end goal - like roofers, remodelers, painters, custom home builders, pressure washers - having high-quality pictures of your best work is absolutely essential.
If you are a remodeler and your image gallery only has pictures of your work from the late 1990s - you are definitely scaring away your prospective clients.
Your work pictures are representative of your work. If your photos look bad, blurry, and outdated - that's what is suggested about the quality of your work.
Images That Are The Right Size For Your Websites
Photos with too small a filesize look pixelated, distorted, and grainy. Photos with too large a file size take way too long to load, especially on mobile devices.
DPI refers to the "dots per inch" - a measurement of how much detail needs to be present within your image to be sharp. Paper and printed images need to be at a higher - usually at 300 DPI. Web images, on the other hand, generally need to be at 72-92 DPI to look their best.
Not manually optimizing your image sizes can send your website visitors packing.
Load Times from the Crypt
Everyone has experienced it. You click on a website link and wait. And then wait. And then wait some more.
You click on it again, maybe twice - thinking perhaps you didn't quite click on it right the first time.
But still nothing.
Then you go back and try a different website.
Don't let that be your website.
Technical optimization to fix your website performance and slow website loading times is not a very sexy part of web design - but it is a vitally important consideration.
Fast websites keep visitors engaged. Slow websites send visitors into the arms of your competitors.
Reviews That Haunt You
Online reviews from complete strangers carry major importance in both the SEO visibility and the social proof component of how one selects what company to hire.
While negative reviews can't be avoided, they can be mitigated.
Using a review management system helps you to continually build up your positive reputation, to help drown out negative reviews. Incorporate review-gathering processes into your everyday business practices. Just like how you provide every client with superior service and with an invoice at the end of the day, you should communicate with every happy customer and ask for the review. This is the best way to grow your review count and improve your average review rating.
Ghostly Content Gaps
Websites need to be constantly cared for. That includes feeding your website with regular content updates to look its best.
Your website launch should not be the only time you add content to your online marketing presence.
Project posts are a great way to maintain a stream of fresh content without too much stress.
Just make sure the content you add to your website is always purposeful - with an SEO goal in mind - to maximize your efforts and effectiveness.
Otherwise, it'll look like you've ghosted your website - which means that search engines may do the same.
Mobile-Unfriendly Monsters
The web has completely transitioned from desktop-first to mobile-friendly to mobile-first design focus. With the majority of general web traffic now coming from mobile devices and tablets, mobile design considerations are no longer optional.
Website loading speeds and times are paramount for mobile web users. As people transition between home Wi-Fi networks to mobile data and public Wi-Fi networks, users experience a variety of web speed capabilities throughout the day.
Your website has to run properly whether they are on a limited mobile data rate or on their work Wi-Fi - and that takes purposeful planning and preparation.
If you're not planning for mobile-first design and customer care, those mobile monsters will turn on you, which could mean you're excluding yourself from 60% of possible web traffic.
SEO: The Invisible Man of Marketing
If you don't have a purposeful plan for search engine optimization for your online marketing presence, your website might as well be the invisible man.
SEO planning starts with your initial web build process and continues on forever after that; you're never done with SEO.
Just like with online reviews, good SEO doesn't happen by happy accident. How you design, write, link, and code the site all play into the overall big SEO picture. Partnership with a professional contractor marketing agency (like Footbridge Media!) is the best way to maintain a long-term SEO game plan.
Don't scare away your website visitors with spooky site aesthetics, navigational nightmares, icky images, or any of those other common frights. With the right planning and online marketing partnerships, you can make sure you keep those customers coming and leave the haunted house operations to the professionals.

About Chris Lonergan
Chris Lonergan has over a decade of contractor marketing experience with Footbridge Media. With a background in web design, print design, content creation, and online marketing, Chris is focused on providing quality marketing and business solutions in the construction and service industries - helping small business owners to more efficiently manage their company and grow their operations.