The Handy Guide to the Contractor Selfie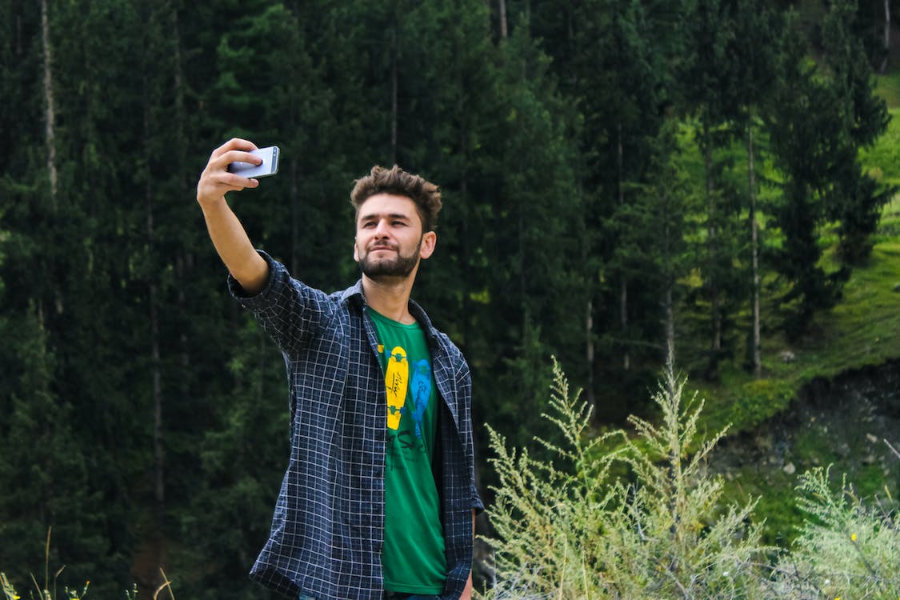 Chris Lonergan
November 7, 2016
In a world dominated by Snapchat, Instagram, Twitter, and Facebook (and probably some other new social media platform start-up that's gained popularity since you've started reading this blog post) – you can't not know what a selfie is. While the contractor selfie hashtag is seldom used – as of October 2016, #selfie has been used publically over 270 million times on Instagram alone. While millennials stereotypically take the most selfies, it doesn't mean you can't get into the game – it's time to start with your first contractor selfie. If there is one more tool you should add to your truck mounted tool box this year – maybe it should be a selfie stick!
We've pretty much bashed blog visitors over the head about taking more pictures of their work. We've discussed what not to include in your pictures and why photo galleries are important for your online marketing.
Selfies are a different animal. While we're not going to ask you to "duckface" for this, we've got some simple tips to help you overcome that front-facing camera fear and get started with a unique way to make your business stand out from the rest.
But First – Why Should I Take a Contractor Selfie?
All joking aside, selfies are a great way to create unique content and humanize your organization. Because you run a local business, sometimes customers see you as a "just a company". When potential customers get to see that the people doing their roof work are actually their neighbors – people we may see out shopping for groceries on a Saturday morning or as parents who send their children to the same school – you further develop the local business connection. A simple contractor selfie can add a personal face to what would otherwise be a cold business operation.
Will Contractor Selfies Work for My Business?
Clearly, contractor selfie marketing is not for everyone. Restoration contractors wouldn't want to take a smiling selfie in the "before" picture of a fire and water damaged property – a big grin in the destroyed home of a family is actually the OPPOSITE of good marketing.
But, contractors who find themselves having unique perspectives in their everyday operations have a great opportunity to help show off their view of the work. As long as you are being safe about it, a selfie from a rooftop or from the bucket of a cherry picker grants your client base a unique perspective of your "office".
Putting Together Your Selfie
While using your smartphone's camera doesn't require an artist's touch, a little knowledge helps. We've talked about how to best use your smartphone for documenting your work in the past – but here's a quick refresher course, specifically for selfies.
Lighting - Natural lighting is always best, but try to make sure that the light source is always behind the camera. If you're outside, take the picture with the sun to the back of the camera. If you're inside, try to take the picture with light from a window to the back of the camera.
Preparing The Area - Make sure what is behind you in the picture should actually be in the picture. That new kitchen remodel looks far less impressive with that bag of garbage in the corner of the shot and empty boxes on the counter.
Preparing Yourself - We're not saying you need to make time for hair and makeup, but a few tips can make sure you look good and represent your company well. Push your head forward slightly, like you are craning your neck toward the camera. Take your picture from a slightly higher angle or from a straight forward position – not a selfie from a lower angle. This way, you'll be able to capture the work behind you while also taking a nice picture of yourself.
The Selfie – One Part of Your Online Marketing Plan
Let's be clear – We're not advocating that all of your online marketing should consist solely of selfies. Selfies can be just one part of your overall marketing efforts. When you finish your next remodeling project – don't take selfies INSTEAD OF pictures of your work. Take lots of pictures, from lots of different angles and perspectives. A contractor selfie can spice up your social media timeline and give a human face to your company name – your current and prospective client base can see the great quality work you provide and the people who do that work.

About Chris Lonergan
Chris Lonergan is the President of Footbridge Media. With a background in web design, print design, and online marketing, Chris is focused on providing quality marketing and business solutions in the construction and service industries - helping small business owners to more efficiently manage their company and grow their operations.