12 Ways for Contractors to Get More Business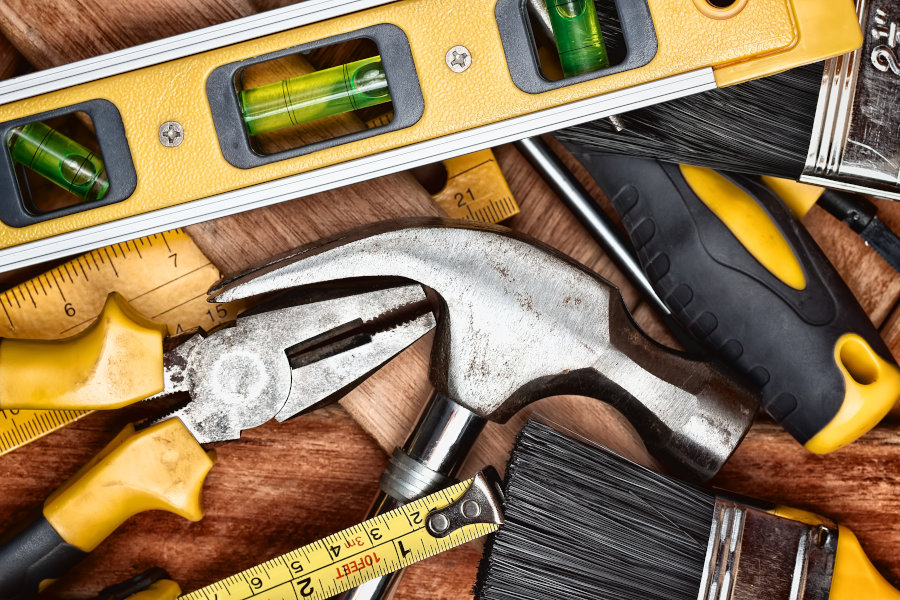 Chris Lonergan
February 18, 2021
The contractor marketing world hasn't been "if you build it, they will come" in a long time. Gone are the days when you could place the largest phone book ad and then wait for calls to roll in. Let's talk about 12 active steps that contractors can take to earn themselves some additional business.
Create a Referral Program to Build a Sales Army
Whether you offer a gift card or cold hard cash as a reward, your past clients will be much more likely to spread the word about your business if you give them an incentive. You can use physical referral program cards or a form on your website.
What's more important is that you have a clear path forward and set of rewards for your old customers to understand that they can benefit if they send new customers your way.
Then, power that referral program by all and any means necessary, from your email signature to leave-behind materials after the job is done.
Reach Out to Your Previous Clients
The leads you've already captured and completed aren't useless by any means. You should reach out to your previous happy clients to thank them for their past patronage.
Re-introducing yourself to a customer can help you re-foster that professional relationship and could turn into a second sale, either directly or via referral.
Google Ads Are There for a Reason
If you haven't tried it out yet, feel out the situation to see if Google Ads are right for you and your business.
While it does absolutely does require some free capital to spend on ads, the goal is to find the right physical markets and keyphrases to target to produce a solid return on your investment.
Hit the Block After Every Job
You can use doorhangers, flyers, or simply knock on doors to introduce yourself to the neighbors when you're working on the street.
If you're there on a job site for an extended period of time, you could always lead with the "Please pardon the noise and our vehicles" angle during your introduction, leaving a business card or flyer before you go.
A few steps down the block may help you to meet your next customer.
Send a Postcard to the Nicest Neighborhood in Town
EDDM cards (Every Door Direct Mailers) are a unique type of postcard that typically flies under the radar with most contractors. Instead of requiring you to have a specific email list, you can simply select the specific neighborhoods and zip codes that you want to target.
From there, you can print postcards and arrange for them to go into every mailbox on the targeted postal routes. With this tactic, you can focus on highly sought-after parts of town, either based on their disposable income or the age of properties.
Test Out Local Service Ads on Google
If you're game to try some "Pay Per Lead" from the most popular search engine in the United States, considering getting your "Google Guaranteed" badge and signing up for Local Service Ads.
While it isn't available to all industries yet, many contractors have the potential to get leads from ads that get placed above other Google ads.
Top of Mind With Email Marketing
You likely already keep a list of your past and present client email addresses – but do you do anything with them? There is no easier way to place a simple marketing message in front of your customers on a monthly basis than email marketing.
Just be sure to combine your short sales message with entertaining or informative content that your customer would likely want to engage with.
Improve Your Website's Visibility With Project Pages
With a smartphone in your pocket, there is no reason you can't take a few pictures of a job well done and share that content on your website.
A well-prepared "Individual Project Page" is like a mini-case study. It helps people to learn more about you and your processes. At the same time, it is a great optimization opportunity, to help improve the visibility of your website by suggesting to search engines that you are a bit of an authority in your field.
Verify Your Citation Health
Your ability to show up in search engine results pages in a specific physical location is heavily influenced by Google's understanding of your business location.
That's why when you type "Pizza" into your search, you get local pizza places instead of a pizza joint from another state.
The accuracy of your business citations (places on the internet outside of your website that feature your business name, address, and phone number) is interpreted and evaluated by Google.
Making sure your business contact information is accurate throughout the web improves your chances of showing up to local searchers.
Ask for More Reviews + Get More Local Leads
Your Google Map Listing is a potentially huge opportunity for leads, but only if you're in the Top 3. Aside from your citation health, getting more reviews is the biggest thing you can do to improve your chances of showing up to local searchers.
If you have good citation health and more reviews from your competition, chances are you'll be in the Top 3 for searchers close to the physical address of your business.
Network With Other Contractors
Sometimes, the old-school methods still work. Knowing other contractors in the area and establishing a connection with other pros can help everyone out. Other contractors can refer overflow work or jobs that are outside of their area of expertise. Contractors helping contractors.
Get Social in Your Community
Social Media can be broken down into two categories.
"Organic" social media is spending a little time every week posting pictures of you, your crew, and your work on your Facebook page – which can help you to build a local following of users in your community.
Paid ads on Facebook can help to get more followers to your organic posts, but also can explicitly attract new leads as well.
Experiment with both to see what works best for your business, from a "top-of-mind marketing" perspective and from a pure lead count view as well.

About Chris Lonergan
Chris Lonergan is the President of Footbridge Media. With a background in web design, print design, and online marketing, Chris is focused on providing quality marketing and business solutions in the construction and service industries - helping small business owners to more efficiently manage their company and grow their operations.