Seven Ways to Implement Multi-Touch Marketing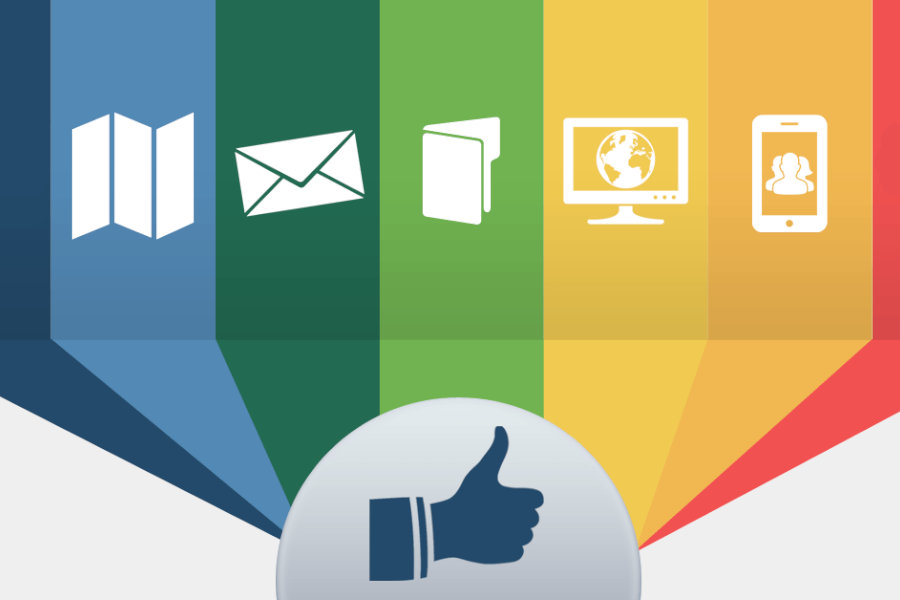 Chris Lonergan
September 14, 2017
Marketing is a constant endeavor. It's not just about getting in front of new people – it's about getting in front of the people repeatedly. Multi-Touch Marketing is about presenting your company's image and selling the benefits of using your business to prospective customers multiple times.
The "Rule of Seven" is the original multi-touch marketing. The idea is that the more often you get your message in front of a customer, the greater the chance you have on closing a deal. It's why salespeople don't take the first no for an answer. It's why you see or hear the same commercials over and over again.
Your business marketing programs should be well-rounded and cover a variety of mediums, with the ultimate goal of hitting multiple potential users in multiple formats.
It may sound difficult, but once you have the right systems in place, you can simply take advantage of multi-touch marketing and consistently get your message in front of users to increase the odds of a sale or referral. Let's review seven ways that you can take advantage of the "Rule of Seven" for your business.
Have Organized Marketing Campaigns for More Efficient Multi-Touch Marketing
Before you start creating random postcards and tweets to spread your marketing goodness, you need to simplify your efforts into a singular voice and message. Find a common thread that you can repeat throughout your multi-touch marketing. You can highlight a seasonal service, use the same color scheme / pictures for a specific campaign, or share the same price incentive. Creating a focused marketing campaign instead of a scattershot approach maximizes the impact of your repeated message.
Leave Print Products Behind
At the end of any consultation and customer visit, you should leave the client with more than just an invoice in hand. Leave behind a business card, information on a referral program, a presentation folder and support material, a brochure regarding the full service offerings of your company, a postcard with a special offer for return customers, or any other print marketing piece that further educates the customer about your business.
Recurring Every Door Direct Mailers
EDDM, or Every Door Direct Mail, is a great way to highly target your direct mail marketing. You can send a postcard to every mailbox in a specific area, at a lower cost than traditional postcard postage. That's valuable enough, but the fact that you can be very selective with the neighborhoods you target (by selecting a specific postal route) means you can hyperfocus your marketing message. With the low cost of EDDM, you can send multiple messages over the course of a few months.
Sticky Marketing in the Home
If you deal in equipment installation, repair, and replacement services – you have a unique way to keep your business name and contact information in front of customers. A sticker on your newly installed or maintained equipment makes sure that the homeowner remembers who to call for service. This a great for service companies with recurring seasonal maintenance programs or any other warrantied repair or installation services. HVACs, Plumbers, and Electricians are the most likely winners for this type of "sticky" marketing, though I have seen pest control companies and other similar "recurring service" style companies use stickers.
PayPerClick Retargeting
If you're looking for a quick way to pump up your numbers, give PayPerClick a chance. One of the major benefits is the fine control you get when setting up a PayPerClick Campaign – you can tailor it to very specific geographic areas with highly targeted keywords. As far as multi-touch marketing is concerned, payperclick retargeting is an easy win. You've likely already experienced this if you use Amazon or do virtually any online shopping. After you look at an item, you tend to see reminder about that specific item or comparable items in small graphic ads everywhere else online, like that object is following you around as your surf the world wide web. That's retargeting – an advertiser is following you, reminding you about that potential purchase you almost made. The same can be done with services and the home improvement industry. Each view is another reminder that you visited a company's website and that you were interested in a company's service, which makes the business even more familiar to the end user and achieves another basic touch point.
Meeting Them Where They Play – Social Media Engagement
On the average day at Facebook, approximately 800 million people "like" something. If you aren't involved, they won't be liking you – and instead they may be liking a competitor. Social Media, and engaging people on the various available platforms, is a great way to improve your business visibility for past and prospective customers.
It's important to not 100% sell when you are adding to your social media feeds. Promotional content has its place, but the majority of your activity should be focused on informational and entertainment content. You're meeting your users where they play and get information, so respect the space and engage in the conversation instead of shouting advertisements 24/7.
The Inbox and Email Newsletters
Email newsletters are considered old school by some, but they are still incredibly effective tools. Once you have the proper methods in place, like a sign-up form on your website and specific opt-in opportunities during your sales process, your email marketing lists will grow as your client list grows.
The same rules as discussed regarding social media content apply here as well – don't be a sideshow barker and exclusively blast out sales material. Offer generally interesting content for your customers – something that you would enjoy receiving yourself. If it is the type of thing that is anecdotally interesting enough that you would share it with friends and family, and if you can somehow tie it back to your industry, that is prime content for your newsletter. Your email recipients will enjoy the content too, and look forward to the next newsletter – all the time keeping you and your branding fresh in their memory.

About Chris Lonergan
Chris Lonergan is the Managing Editor of Footbridge Media. With a background in web design, print design, and online marketing, Chris is focused on providing quality marketing and business solutions in the construction and service industries - helping small business owners to more efficiently manage their company and grow their operations.