Marketing for a Contractor Business From Scratch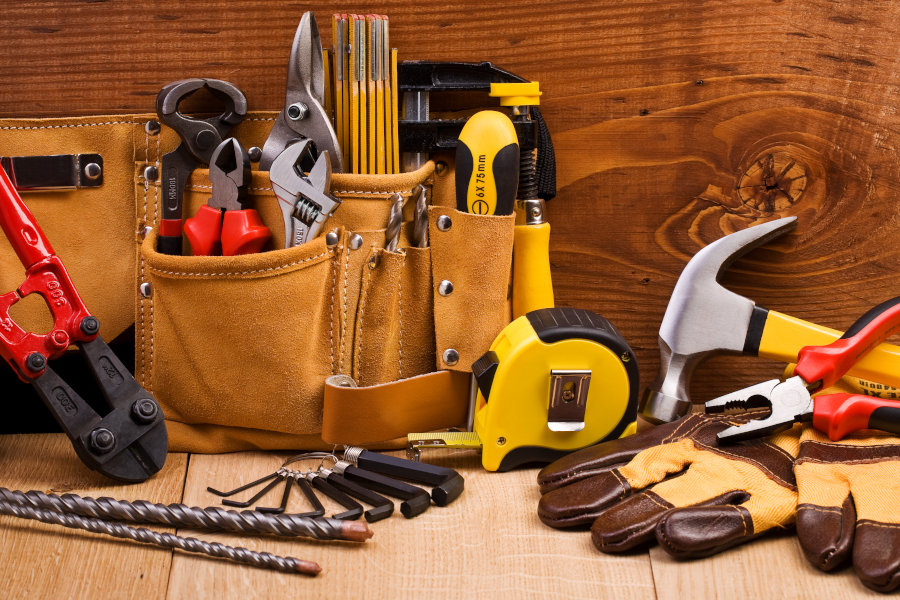 Chris Lonergan
July 19, 2018
We talk to contractors with marketing questions who come from a variety of backgrounds. A good portion of those have worked their trade for years as an employee of another company who want to hang their own shingle (roofing pun intended). Many of those same folks usually are pretty good at their trade, but are admittedly amateurs when it comes to marketing and business.
So it makes sense that one of the most common marketing questions from clients who are starting a business from scratch is "Where do I start?"
Whether you are a seasoned professional looking to expand a business into new industries and locations, or if you are a brand new to the business game – Let's go over some marketing advice new businesses looking to start up in the contractor and home services space.
Consistent Branding for Your Business
While you don't have to go to an advertising agency for a complete style guide for your business, it is important to establish some rules about how you display information about your company. If you don't already have a logo, it is time to have one created. If you are looking for a complex logo with a mascot or character, it may be best to find a local designer that you can sit down with and go over your needs. Our marketing agency can help with more simple logo designs in the course of our online marketing services, we've found that complicated logo artwork can take more time to get right than building out an entire website.
Nail down your logo, your colors, and the "voice" of your business – so that you have a consistent look for all of the marketing materials you'll be making in the future.
The Right Business Location
Google is in the business of connecting people to local companies. We've used the example of searching for pizza to demonstrate how local optimization works.
In a nutshell, the physical location of your business – the street address that will be used for all of your offsite optimization – should be physically close to the area you want to service. This location is a key factor in your local optimization. Your Google Listing and local optimization should work best when searchers are in the same area as your location or if they are referencing your location.
I understand that having an appropriate business addresses is a huge hardship for most contractors. Even though we understand that you are a small service-based business and that you travel to a customer's location to do work, Google hasn't figured out a system yet that doesn't revolve around a commercial physical location.
You can always use your residential address.If it is your preference, we can even hide street address from the public while still informing search engines. But if you can a public business address, that would be most effective for your optimization and is the ideal situation.
The Right NAP
The consistency of your business name, address, and phone number is vitally important to your local optimization. If you are a new business, you may actually be starting off on a good foot since you don't previous business operations history. If you've tried to start other businesses in the past using the same physical address or phone number, there may be some clean up work to be done.
Keeping Your Domain Name to Yourself
Whenever possible, you should maintain your own domain name.
We've heard horror stories from new clients moving to our services who have to pay ridiculously high fees to get their domain name transferred into their ownership – sometimes in situations where they originally owned the domain name and transferred it to the vendor in the first place!
Your domain name is too important to let someone else hold on to. Your domain name is basically your "business address" on the web – so it's worth a few dollars a year on auto-renew to make sure you keep it secure and out of the hands of another organization.
Website – An Absolutely Must for Today's Customers
While we of course do have a bit of an interest in making sure you have a web presence, it is incredibly important that you have website for your business.
Your website is a core part of your marketing space – it will be one of the first stops a customer makes in vetting your business to make sure you are who you say you are and to see your work or full service offerings.
Pictures of You and Your Work
When you're starting off, you may not have great pictures of real world work that you've done. That's one of the purposes of stock photos, to fill the gaps in your marketing until you can replace it with your content.
Just remember to follow through and replace that content over time. Providing content on a regular basis to grow your website and provide more samples of your work is something that most customers will be looking for. As a bonus, it also keeps search engines happy.
Social Media Presence
While it is important to have a basic social media presence, don't make it the end-all-be-all of your marketing efforts. You can spend hours and hours working on social media alone, but if you have a low follower count and you're not getting much engagement it may not be as good an investment of your limited time.
Traffic from SEO versus Paid Advertising
Aside from being a great resource for your customers, a major benefit to having a well constructed website is that your company could be found in search engines. But, for a new company on a new domain name especially, it is important to recognize that SEO is a long game.
A brand new website and .com name will not immediately unseat a company who has been in the space for 15 years. It takes content strategy, development, and time to grow and advance through the search engine results pages.
SEO is a marathon, which makes paid advertising more like a sprint.
Paid Advertising is not a bad idea, especially early on in your company's life. It allows you to find customers that wouldn't organically early in your optimization efforts. On those jobs, you can get great photos for your website, build your customer reviews, your social media presence, etc.
The give and take here is that paid advertising costs more cash, but it is fairly immediate in deployment and results. Once you find the right recipe for your ads and targeting, you'll be able to figure out roughly what your cost per lead will be with PPC. At that point, increasing your lead count is as simple as increasing your budget.
SEO will ultimately provide lower costing leads over time; eventually your cost per lead should decrease and lead flow should increase as your search dominance grows.
Paid Advertising Versus Lead Services
We've hear stories from both camps – those who have found success on popular lead selling sites and those who absolutely despise them.
I feel like, depending on how you operate your business, this is a "Your Mileage May Vary" scenario. What I can says it that there are some core differences in how each paid lead service works.
The majority of paid lead services aren't selling individual leads to individual contractors. One lead is sold to multiple contractors at the same time, which means you have multiple companies bidding the same job. Those on Team Lead-Services-Are-Bad often complain about the race to the bottom and having to fight off contractors who can act quickly with a bottom of the barrel price to entice the prospective client. These leads, though competitive, can be plentiful. Lead generation companies are big and often have national awareness advertising campaigns and TV commercials to drive leads to the service.
If you run your own Paid Advertising, like Google Pay Per Click or Facebook Ads, you are getting an individual lead that goes straight to you instead of automatically going to a pool of companies.
A fast turnaround time is absolutely vital on any lead – but especially so on a paid lead. The longer the delay, the more likely the lead will go bad.
Why You Absolutely Must Have Online Reviews
One of the first things you'll need to do as your company's online presence is blossoming is increase the number of your online reviews. If most people have the chance to be choosy, they will take a company with multiple positive reviews over a company with absolutely no reviews.
Whether you go oldschool and manually follow up with clients or if you use an automated review management system, building your reviews is a vital step to establishing your business online.
Be Prepared for the Long Haul
All of this seems like a lot, but this is really the bare bones. This is laying the groundwork for starting your business from a marketing perspective – let alone taxes and licensing and all of that. You may be great at your trade, but it is important to also be great at running a business – which is a totally different skill set.
The process of building a business from scratch is a long haul. Running your own business is not the same working a job. Owning and operating a business, especially in its infancy, will be a grind. You're at the stage where you have more time than money, so you will have to wear many hats and do work that may be outside of your comfort zone.
Starting a business is a serious undertaking – and if you want to get it done right, you must have the right plans and partners in place to get the job done well.

About Chris Lonergan
Chris Lonergan is the President of Footbridge Media. With a background in web design, print design, and online marketing, Chris is focused on providing quality marketing and business solutions in the construction and service industries - helping small business owners to more efficiently manage their company and grow their operations.